So you've decorated your space with terracotta vases, and you've been adding burnt oranges into your wardrobe and throw pillows, but now you're wondering: what about a terracotta grazing table?
Let's set the scene: 30km's out of Auckland, greeted by beautiful trees, roaming turkeys and hopping bunnies, we arrive at a gorgeous lakehouse sanctuary. The perfect backdrop for a special bridal shower.
This bridal shower was a long time coming for our clients, but also for us. With a surprise lockdown for Auckland back in February, causing the bridal shower to be up in the air for an entire month, we finally set a new date to make some platter dreams come true.
We had envisioned this to be a celebration of love, but also a celebration of our love for the gorgeous shade that is, terracotta. Shades of terracotta have been popping up everywhere from fashion to interior design over the past year, and we wanted to extend it to our grazing platters. Our mission? A terracotta grazing table.
In a recent Instagram poll (follow us), many of our followers noted that they enjoyed a terracotta themed graze (we had done it once in the past), so we took that as a sign – all aboard, the terracotta ship is set to sail!
We began brainstorming terracotta-hued food items we could include – the classics came to mind, juicy oranges and crisp carrot sticks were a must. Add our favourite 'statement' fruit – papaya, and we've got our base sorted.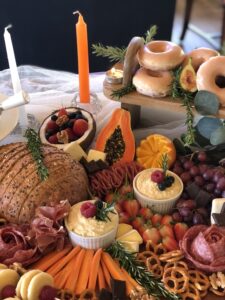 But, how could we extend the theme even more? We sourced some candlesticks and clay vases to bring the colour into our props as well as via one of our main events – personalised (terracotta themed) cookies.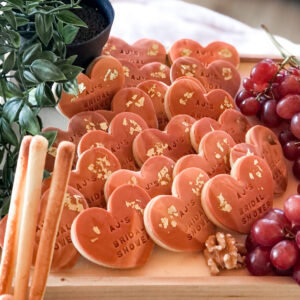 A minute of appreciation for these beauties, please.
This 2-metre graze was anchored with personalised cookies on the left, our signature donut stack on the right, and our show-stopping 'cheesecake' topped with raw honeycomb, figs and nuts, right in the middle.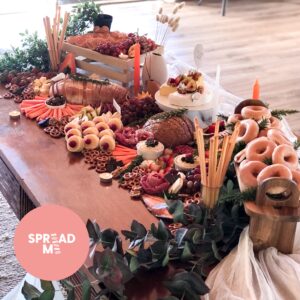 We managed to get our hands on some fresh figs (harder to source than it looks) as well as some luxurious honeycomb – we were very excited about this combo, to say the least.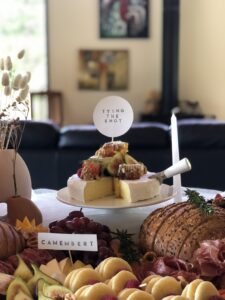 But, the excitement doesn't stop there. We tried out a new technique for the way we displayed our cold meats – introducing, the meat rose! We're obsessed!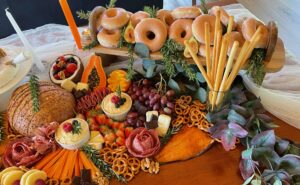 Our creative juices were flowing at 2x speed for this graze, and it was so much fun to make. Here's a bonus pic of us after we had just finished setting up in our brand spanking new aprons.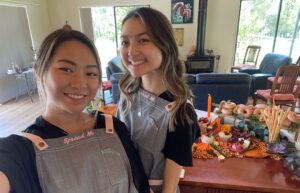 Want to order a graze for your next event? Click here!
Related: The Cutest Baby Shower!