A 1.5 metre graze is on the smaller scale of our offerings, however, it does not mean it's any less grand.
This graze was for an intimate 21st gathering with hungry bellies waiting to be fed.
We decided to opt for a 'flatter' graze, as we've been doing a few grazes with intense elevation as of late – it's good to change it up every now and then.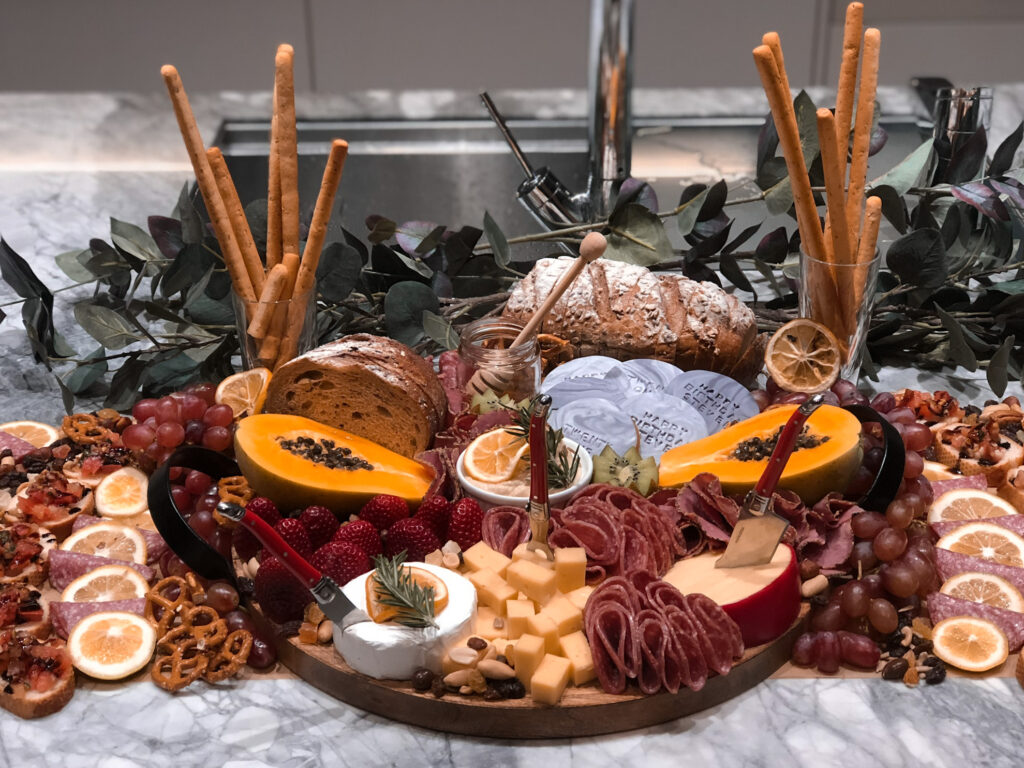 We used a circular board as our central piece. Filled with cold meats such as beef pastrami and danish salami, paired with fresh papaya, kiwi fruit and strawberries.
Our "zig-zag" kiwifruits are a signature to our grazes and Picnic Boxes, and we don't see us getting bored of these anytime soon.
The three cheeses on display – front and centre – are a soft & creamy brie, nutty gouda and an aged airedale; unique to Whitestone Cheese Co.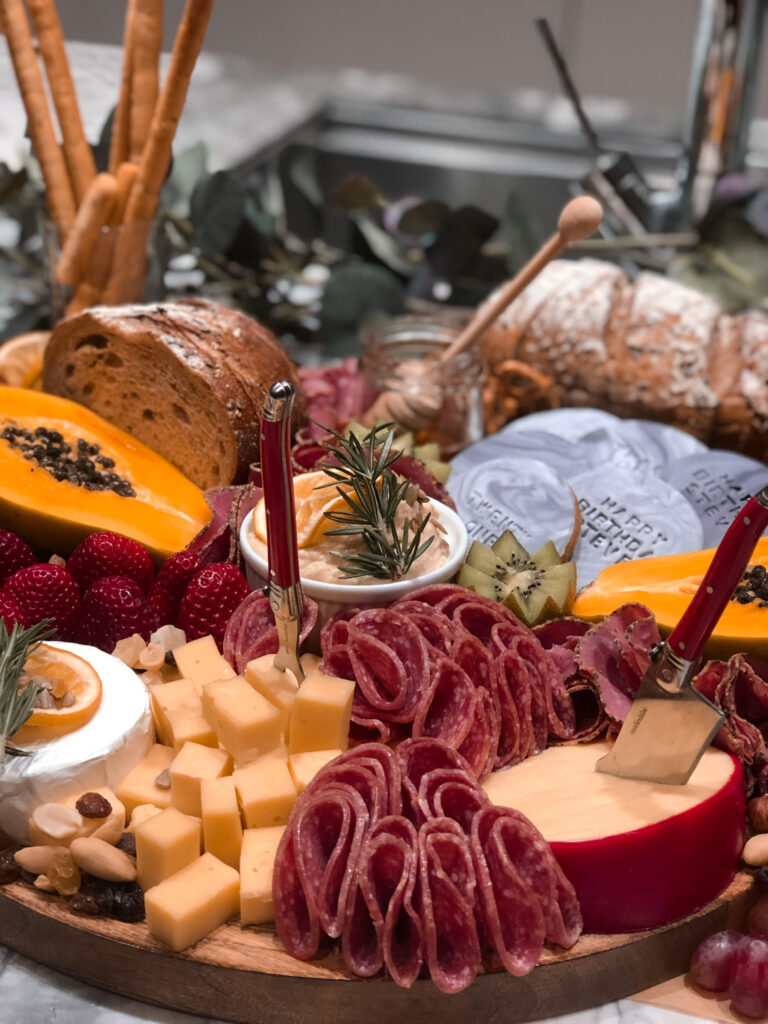 The Aged Airedale gives a full-body of flavour. With a strong to sharp finish (which intensifies with maturity). As mentioned, it is unique to the Whitestone Cheese Co., and here at Spread Me, we're big fans.
The Aged Airedale is named after the Airedale farming district in North Otago's rolling lowlands! The more you know!
As per our client's request, we added personalised cookies to the graze. With the freedom to do whatever colour scheme or design we wanted (as long as it loosely related to it being his 21st birthday), we were left to brainstorm.
We decided to go with the classic marble design – and much to our surprise and delight, the tabletop matched PERFECTLY. That's when we knew, we made the right choice.
Adding personalised cookies are always so special to us – it instantly adds that glam and luxe factor to any graze and makes it that much more personable.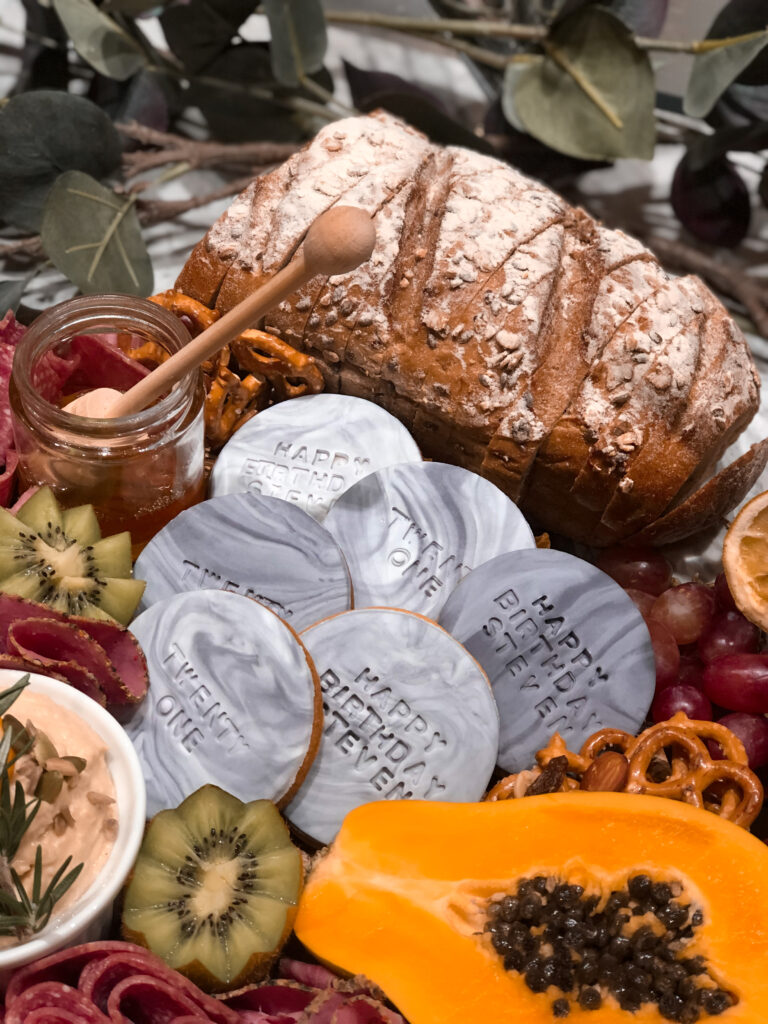 And with our cheeses in place and cookies in the cutest wee triangle stack (we're very proud of the triangle stack) we went ahead and created a rainbow of tomato bruschetta canapés, mixed nuts & pretzels, and more of that danish salami presented in a unique folding method, all hugging the central circle board.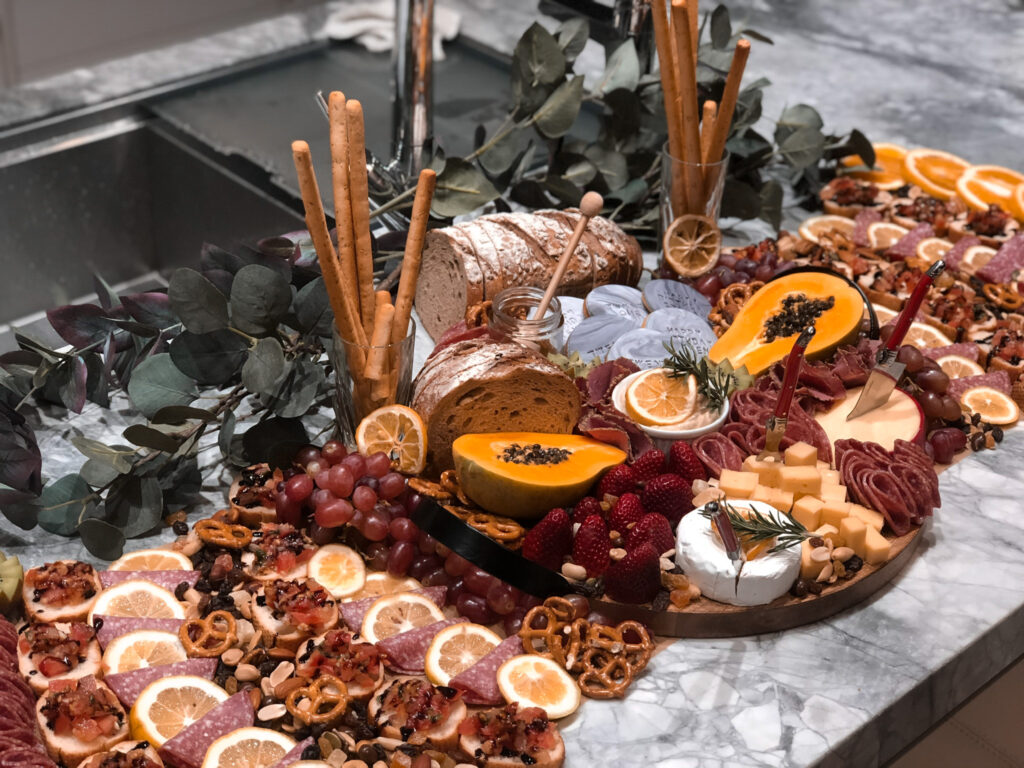 We are so chuffed with how this small but mighty graze turned out and are happy to hear it went down a treat!
(After messaging the client after his event, he came back to say that there was a papaya eating race to end of the night – we asked no questions but was quietly amused…)